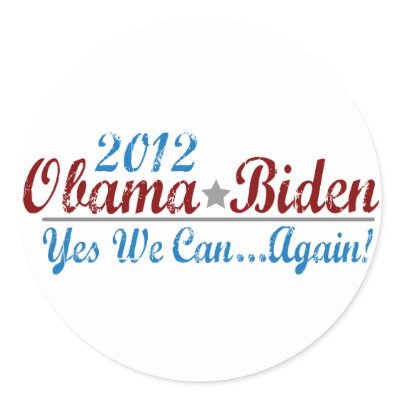 Bam is rallyin' his supporters for 2012.
Bam tweeted (isn't his the most innovative thang?)  his trillion followers this mornin',  "Today, we're filing papers to launch our 2012 campaign.  Say, that you're in" He did say that while he is focusin' on the job at hand, the work must start today.
He also hit his 19 Milli Facebook friends with the news this mornin', too.  It official.
And I guess I agree.  The ReThuglicans been posturin' for a place in the WH, almost since the day the man took office.  Everything they have said and done, no matter how stupid has been a campaign move.  They somehow think they can do a better job.
Only the  stupid 'hardcore racist' and 'anti- Black anything, will vote any one of these jackals into the Oval Office.  We have seen in the last 3 yrs their game plan.  They want to keep and control the money, no matter if they have to slash every social program to keep the armed forces and their pockets lined.
They showed us how they really felt about us when they held millions of lives hostage, threatenin' to kill UI extensions if they didn't get that tax cut that cost the budget trillions.   They let us know how much they cared when they signed a bill that outsourced thousands of jobs to India, just to spite Bam.
So far none of them have stepped forward.  You know normally if Bam forgets to wipe his ass in the bathroom, 15 of them were on all the major channels with somethin' to say about it.
**crickets singin'**
They didn't see it comin'.  Even though he showed them his nuts, when he ran and got elected,  I don't think they thought he had the real nerve to run for re-election
I'm sure by the time I get off work today, they will have 'made a statement.'   And then the fight begins; who is gonna run against him.  They all think they are the one.  This will be a comedy show I can't wait to see…
I think he can do it again. Change takes time and if folks give him that- they been snatchin' that up since he was elected too- he'd be alot better off.  There are those who only want to see him fail at any cost.   But to me, he has made some strides, got some shyt done.  This is a big job with a big deadline and lots of pressure.
I believe he can make it happen…again.
I'm in.