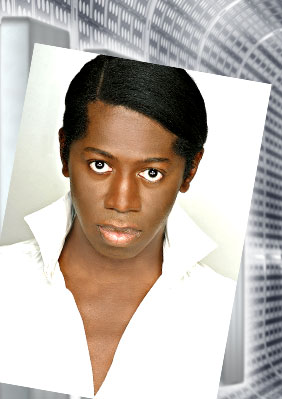 American's Next Top Model resident flamin' diva, Miss J,  is a father of a 7-yr old son, he announced on the Tyra show Tuesday.
Miss J  (born Alexander Jenkins),  said he and his ex, who he calls 'the doctor',  both donated sperm to the event.  "A French lesbian had asked if we would be sperm donors," he told Tyra. "So we thought, 'OK, you want me to do you?' And she was like, 'Ooooh, I'm not that talented.' So I said, 'Okay fine.' So we did a little test tube, honey" (wrist flickin wildly).
His ex, 'the doctor'  is the actual bio father,  but he is still active in lil Boris's  life, and says the experience has 'enriched his life beyond imagination.'
He said his son is "an incredibly smart child.   He was toilet-trained at a year and three months. He refuses to drink out of plastic and will use only glass, and insists on wearing 'nice' shoes (at 7?)  Looks like some of the Diva genes have crossed over.
Well good for him! I'm not mad at him.   But I am wonderin' why this is news now, but it's cool.  "Speakin' out" seems to be the thing these days…
Miss J is a  model, television personality, and runway coach known for his work as a the  shyt -talkin  coach and judge on America's Next Top Model.     He's livin a great life:  lives in Paris,  travelin'  everywhere else  for the fashion and modeling industries, doin' him.        
Miss J and Tyra  have been BBF's  since he was sixteen years old.    Alexander and Banks met backstage at a runway show, and he began to give her walking lessons.   Banks gave him the  title Queen of the Catwalk.   
"There's no getting around it – the church is the reason I am who I am today. I thank Jesus I ended up a man with a killer stride that has the power to burn footprints into a runway."           

-opening of J's new book,  "Follow the Model: Miss J's guide to Unleashing Presence, Poise and Power".