26 Years For Derrion
This lil  mofo cried, sayin' buh-bye to his mom and sisters, when they tore his ass off 26 years for the beatin'  death of Derrion Albert.  He wasnt such a big man in this moment.
Eric Carson, life over at 17, plead to one count of 1st degree, since he was clearly seen beatin' Derrion in the head with a 4-ft board.  He actually had supporters in the courtroom, mad because he got the 26.    That a$$hole should have got 50.  With time served, he'll be 42 when he gets out.
He's the third of four monsters who will pay for this boy's senseless death.  The 14 yr old is in juvie till he's 21, with 30 joint suspended (he f*ck up, he gets that 30 yrs!)
Eugene Riley and Lapoleon (wtf??) Colbert still waitin'  to meet the judge.  Silvonus (what they drinkin' over there?) Shannon was tried as an adult , and faces up to 60 in the big house when he walks the last mile in next month.
I bet they wish they could take it all back…
They should have had they asses in school tryin' to learn somethin',  instead of runnin'  the streets like wild natives showin' they ass.  I bet no one even knows  wtf the fight was about. 
And this boy is dead.
Fry they asses.
Crisp.
1 Down, 4 To Go!
The jury took a little over a half hour  (after a 2-day trial) to reject the 'foolish boy"  who stumbled onto a fight as he innocently walked home from school" defense (even though he is caught on tape bustin' the boy in the face!) and convicted that 15 yr old (he had a bday in lockup) of 1st degree murkin' in the death of Derrion Albert.
As Derrion's mother dabbed her eyes and slowly shook her head, the convicted teen's aunt ran from the courtroom screaming, "Oh Lord, oh Lord, oh Lord".
"I'm pleased, I'm relieved, justice was served,'' said Norman Golliday, Albert's grandfather, who said he wasn't surprised by the quick guilty finding. "The facts are right there and the prosecutor did a great job. I expected it to be just what it was.''
The boy — the first of five charged in the murder to stand trial — is due to be sentenced Jan. 18.    His attorney, Richard Kloak, said he can be locked up until his 21st birthday.   But, he said, if he commits any offense between now and then, even an offense as minor as marijuana possession, he could be sentenced to 20 to 60 years in state prison.   That's what he deserves…   He plans to appeal.
I hope they sit his ass down for a long, long time. 
Derrion's mother is sentenced to Life Without Her Baby.
Here's a nice  video tribute to Derrion and others who've  lost their lives to senseless  violence, by Young Brodie.
 The Reckonin' is About to Commence!
(CBS Chicago – Dec 7, 2010)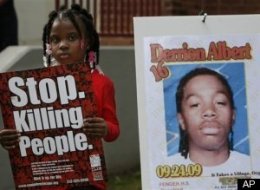 Opening statements have begun in Cook County Juvenile Court for the trial of one of five suspects accused in Albert's beating death. This lil boo boo is just 14 years old.    He was a freshman at Fenger at the time, and threw the punch that  knocked  Albert out.
His attorney argues that he only "struck Albert one time with his fist, and thus played a miniscule role in Albert's death".
If convicted, the boy could be locked up until he is 21.
At the boy's trial, jurors are being asked to decide for themselves what the boy's role was. A large video screen was unrolled in the courtroom, and prosecutors will play the videotape several times throughout the proceedings.
Silvonus Shannon, 20; Eric Carson, 17; Eugene Riley, 19; and Lapoleon Colbert, 20, are also charged in Albert's murder, all as adults.
A jury trial for Shannon will begin Jan 7, 2011, Cook County State's Attorney's office spokeswoman Tandra Simonton said earlier this year.
November 26, 2010
 Suspect Admits Role in Derrion's Death
19 yr old Silvanus Shannon finally admitted that he jumped on Derrion's head as he was layin' on the ground, already to f*cked up to defend himself or get away.  And he also admitted this baby never struck him.
This is one of the cretins caught on tape beatin'  Derrion to death.   (He's the dumb-lookin' one in the middle).  Him and his buds have each been charged with 1st Degree Murder and no bail.    (Good!)
I hope him and the other three junior cretins,  Eric Carson, 16; and Eugene Riley, 18, and Eugene Baily,  also 18, get exactly what they deserve.  once they get to the pokey maybe they should let some big ass inmates punch them in the face a few time and jump up and down on they heads. 
See how that grabs 'em…
9/27/2010 Derrion Albert – 1 Year Later
This week, Derrion's mother was joined by the Black Star Project honoring her son and other survivors of Chicago Public School children   killed in recent years, with t-shirts and a peace rally.    Fenger principal Elizabeth Dozier addressed the act and defended the school, saying, "I think that we were characterized in a certain way because of a violent incident".
"Unfortunately, issues like this are not unique to our school, not even to really our city, but they happen across the country, and so I think what is important to keep in mind that Fenger high school is a great school with great students who are doing some really awesome things."
They are part of what the Black Star Project is calling its Parent Resource Exposition, meant to educate and empower parents. It's named in honor of Derrion Albert.
"We are trying to provide resources so we can collectively find ways to stop the violence among our youth.   When parents have resources, they have hope," said Derrion's mother, Anjanette Albert.      The Derrion Albert Parent Resource Exposition will take place this  Saturday at St. Sabina's church.
Five students were charged with Derrion's murder and are still awaiting trial.    She attends every court hearing.
"It's hard," she said. "It's for my baby — that's my son. I need to know what's going on."   She said in the quiet of every morning and every night, she'll think about Derrion.  Her son would be a high school senior, applying for college right now.
"It's just him not being here — it's hard," she said. "I still tell him good night every night before I go to bed."
The next court date is Monday, October 4.
FEB 2010 UPDATE!  5TH Suspect charges in Derrion's death!
A fifth assailant has been identified. Described as a "B student" at Fenger High, Lapoleon Colbert was taken into custody January 20 in connection with the horrific Sept. 24, 2009 beating death of Derrion Albert.
Colbert had had no criminal record before the beating, and while he may have been able to escape being charged for any previous activity,
COURT PLEAS IN DERRION ALBERT CASE
Nov 3, 2009-CHICAGO - Three teenagers charged in the beating death of Chicago honor student Derrion Albert have plead not guilty to the charges.   Im sure thats what theird 'public pretender' told them to say…
The three teens, all held without bail, entered their pleas Friday before Cook County Circuit Judge Nicholas Ford.
Nineteen-year-old Silvonus Shannon, 18-year-old Eugene Riley and 16-year-old Eric Carson have been indicted on murder charges for aalleged roles in the Sept. 24 beating of Albert.    The beating was caught on a cell phone camera.   A 14-year-old has been charged as a juvenile with murder.    That teen, whose name has not been released, is due to appear in Juvenile Court on Dec. 1.    Shannon, Riley and Carson are scheduled to make another court appearance Dec. 9.
________________________________________________________________________________________________________
4TH SUSPECT CHARGED IN DERRION'S MURDER!
Chicago – A 14-year-old boy has become the fourth teen to be charged with murder in connection with the fatal beating of 16-year-old Fenger High School honors student Derrion Albert.  He is charged with  two counts of first-degree murder.     One count specified that it occurred during an aggravated battery and the other count specified that his actions had a probable cause of death or injury.
Three other Far South Side teens were indicted in the murder on Oct. 23.
Silvonus Shannon, 19; Eric Carson, 16; and Eugene Riley, 18, are charged with the murder of Albert, an innocent bystander in a fight between two groups of students near the Roseland neighborhood school on Sept. 24, Cook County prosecutors said. All three were being held without bond.
The three were indicted on three counts each of first-degree murder and one count each of mob action, according to Cook County State's Attorney's office spokeswoman Tandra Simonton.   They are scheduled for arraignment on Nov. 10.     Shannon, a Fenger student, and Riley have given videotaped confessions.
It was a brutal and violent attack in which the victim was merely a bystander.      The assault, captured on videotape , was not gang-related but arose from a disagreement between students who live in Altgeld Gardens and another group who live in an area known as the "Ville," according to Asst. State's Atty. Jodi Peterson.     Earlier that morning, the ongoing fight led to a shooting outside the school, Peterson said.     That led to a brawl near the school after classes finished shortly before 3 p.m.
Albert had been standing near 343 W. 111th St. when Carson and an unknown offender from the "Ville" approached him, Peterson said.    Carson struck Albert in the head with a long wooden railroad tie and the unknown offender punched him in the face, knocking Albert unconscious.
When Albert gained consciousness, he moved a few feet away from the mob and tried getting up.    But he was attacked again.    Soon, a group of five from the Altgeld Gardens faction descended upon Albert.    He was struck again with a railroad tied wielded by Riley, as Shannon stomped his head repeatedly, Peterson said.
Charges against 18-year-old Eugene Bailey were dropped in what family members called a case of mistaken identity. Police say they were still seeking other suspects.
_____________________________________________________________________________________________________________________
NAS- Open Letter to Young Warriors in Chicago
Evidenly NAS was so heated about this Black-on-Black crime that he drafted this letter.  (Courtesy of globalgrind.com):
Dear Young Warriors fighting the wrong war! I know that feeling, that frustration with life and needing to take it out on someone, any one. But….

We chose the dumbest things to go the hardest for.  I remember seeing deaths over 8 ball jackets, Fila sneakers, and name plate chains. Deaths over "he say, she say"!!!!! "I'm from this block or I'm from that block", or "my moms n pops is f*cked up now the whole world gotta pay"!!!

I remember feeling like I was the hardest "n*gga" breathing.  And I couldn't wait to prove it. But let's think. What are we really proving?? And proving what to who?? Everybody knows Chicago breeds the strongest of the strong but I just feel, me, being ya brother from another state feels your pain as if I grew up with you in ya very own household.

You have the ability and mindpower to change they way we are looked at.  Look who's watching us young warriors, look who's throwing us in jail constantly, look at the ignorance in the world. Look at the racist dogs who love to see us down. Loving to bury us in the ground or in jail where we continue this worthless war on one another.

Young warriors…. We are WASTING more and more time. We gotta get on our jobs and take over the world. Cuz this movie left the theaters years ago, Juice, Menace, Boys n the Hood , Blood n Blood Out, Belly!

When we see each other why do we see hatred? Why were we born in a storm, born soldiers, WARRIORS….and instead of building each other up we are at war with each other.. May the soul of this young person find peace with the almighty. I'm with you young warriors. You're me and I'm you. But trust me! you are fighting the wrong war.

This sh*t sucks !!

-Nas
______________________________________________________________________________________________________
♥A Mother's Grief…Derrion Albert mother speaks.  
This is heartbreaking.   The mother of Derrion Albert speaks about her grief, poor thing.    I cried.  But more importantly, she spoke about her fear for her life, and the control these hoodlums really have on this Chicago neighborhood.  This is really unreal; it almost sounds like they live in a warzone, and I can't understand how the police the mayor, and public officals allowed this.  She talks about how afraid they are for their kids to go to school, to sit on their porches…
Mayor Daly and some community leaders do some explainin', but she's the highlight of the whole thing…my heart just bled.
Shes's 2:43 into the vid.
Watch.
_____________________________________________________________________________________________________
Derrion Albert laid to rest; 1000′s attend.
Speakers urge action to save our children.
More than 1,000 mourners attended a funeral Saturday for Derrion Albert — the 16-year-old honors student killed last month in a violent melee near Fenger High School on the South Side.
 

The casket of Derrion Albert is brought out of

 Greater Mt. Hebron Baptist Church following the funeral service for Albert Saturday.
Speaker after speaker — from the Rev. Jesse Jackson to Nation of Islam leader Minister Louis Farrakhan — urged the crowd to do more to prevent youth violence.
"There's too many of our young girls and young boys getting shot down and destroyed," said Derrion's pastor, Jimmy D. Cutts, of Pleasant Hill Missionary Baptist Church. "It's time for a change. The devil has stolen from us our dignity."
Along with Jackson and Farrakhan, those attending the service at Greater Mount Hebron Missionary Baptist Church on the South Side included Chicago Police Supt. Jody Weis and Chicago Public Schools CEO Ron Huberman.
Some mourners were so overcome with sorrow during the three-hour service that they had to be helped outside. Several teens wore shirts silkscreened with Derrion's name and picture.
Jackson reminded mourners that in 1957, the National Guard was needed to escort black students into a previously all-white Arkansas school to provide them with safe passage.  "We need the same intervention today," Jackson said, to cheers and shouts of "amen" from the crowd. "They did it in Little Rock. Do it in Chicago!"
While words are powerful, Jackson said, more is necessary. On Saturday, his group signed up 250 people to become mentors and coaches for young people.  "There's calling for action, and then there's being in action," Jackson said
____________________________________________________________________________________________________________________
This is  sad case for  Black America.  Black on Black crime is definetly out of control, atleast based on this.
Cell phone footage showing a group of teens viciously kicking and striking a 16-year-old honors student with splintered railroad ties has ramped up pressure on Chicago officials to address chronic violence that has led to dozens of deaths of city teens each year.  The graphic video on news stations o, showing the fatal beating of Derrion Albert, a sophomore honor roll student at Christian Fenger Academy High School.  
Albert was knocked unconscious when Carson struck him in the head with a board and a second person punched him in the face. Albert regained consciousness and was trying to get up when he was attacked a second time by five people, struck in the head with a board by Riley and stomped in the head by Shannon, Simonton said.   Desiyan Bacon, Bailey's aunt, said her nephew didn't have anything to do with the beating and was a friend of the victim.  "They need to stop the crime, but when they do it, they need to get the right person," Bacon said.
Prosecutors charged Silvonus Shannon, 19, Eugene Riley, 18, Eric Carson, 16, and Eugene Bailey, 18, with first-degree murder, and looking for at least three more suspects.  (their ugly faces are shown in the vid below).
But Annette Holt, mother of Blair Holt,  a Chicago Public Schools student who was shot on a city bus two years ago, said Albert represented "another promising future, just snuffed out because of violence."  
Someone said he (Derrion) was in the wrong place at the wrong time," she said. "No, he wasn't. He was in the right place. He was coming from school."
Bless his heart…